Jar Rolling Mills for grinding, mixing, polish and dispersion. Jars. Balls. Mahltopfroller.
Main specifications of Jar Rolling Mill type BTPR-D
Value
Amount
Unit
Usable length rollers
950
mm
Diameter rollers
50
mm
Roller speed (fixed)
380 (max)
rpm
Coating rollers
PU
Rollers
adjustable center distance 115 mm – 200 mm
yes
Motor
0,37
kW
Voltage
400
V
Frequency
50
Hz
Safety switch in separate housing
yes, standard
Electronic speed gear
option, standard
voltage change to 230V/50Hz
Lenght of frame
1400
mm
Width of frame
350
mm
Height of frame
450
mm
Weight approx.
60
kg
Possible jars (*)
1,0 3,0 or 5,0 10,0 15,0
litres
Number of spacers
3
units
Max. jars
4
units
CE conformation
yes
Security housing with end switch
yes, standard
made from polycarbonate (PC) and aluminium profiles
Documentation
English or German
language
(* We can only guarantee comfortable use with jars that we have delivered or certified. The number of jars that can be rolled together depends on their size.)
List of options for Jar Rolling Mill type BTPR-D
Value
Electronic Speed Gear (*)
Extra Spacer
Coating Shafts
Rubber
Explosion Proof version according to ATEX ExII 3G c T4
Leakage collecting reservoir: Length and width adjusted to jar mill made from stainless steel, minimum incline to one side, with drain cock.
(* This will change the voltage to 230V/50Hz)
Multi-tier jar rolling mills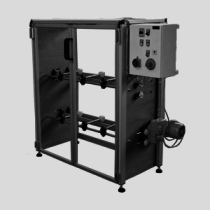 Our program also provides multi-tier jarr rolling mills. Based on the BTPR-D, the regular machines have 2 or 3 stories.